Swimming Pool Inspection Service West Hollywood, CA
From skimming debris off the water's surface to balancing the pH levels, it takes a lot of hard work to keep your pool in great shape. However, even the most meticulous pool owners can miss certain water issues or be unaware of problems within their pool's filters or lining. When small problems go unnoticed, they can often turn into big issues that cause your pool to deteriorate. By having your pool inspected regularly, you can feel confident that any problems will be identified and addressed quickly, allowing you to keep your pool looking and working great. Reach out to Aqua Masters today for your West Hollywood pool inspection.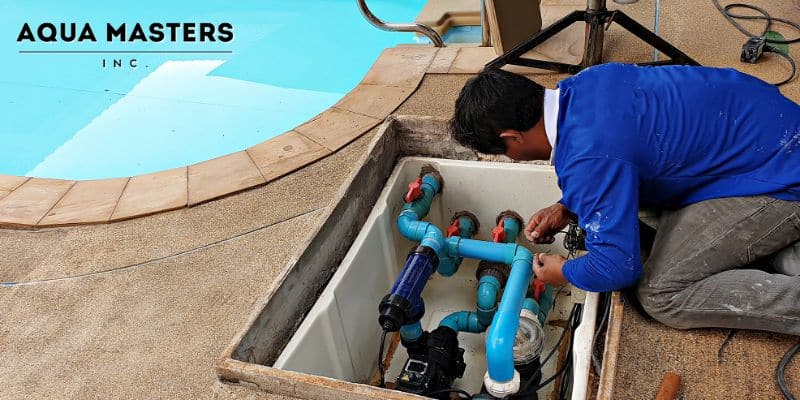 Superior Pool Care and Inspections in West Hollywood
Here at Aqua Masters, taking care of pools is our primary mission. Our team has spent over 35 years installing, repairing, and maintaining pools across California, ultimately building a strong reputation for our business. We're well aware of the complexities that go into pool upkeep, which is why we work to give our clients the tools and services they need to ensure their backyard oasis stays beautiful. On top of our maintenance services, our inspections prioritize your pool's upkeep to increase its longevity, helping you to enjoy your pool for years to come. For pool care you can depend on in West Hollywood, Aqua Masters is here for you.
The Importance of Pool Inspections
Having your pool checked regularly provides a host of benefits — here are a few reasons to consider having Aqua Masters complete a professional inspection. 
Avoid Problems Before They Become Expensive or Damaging
There are numerous elements that go into creating the perfect pool. When you fail to maintain these elements or don't notice issues when they arise, small things can turn into massive problems quickly. Molding tiles, cracks in the pool's structure, and broken filters can all lead to expensive repairs when left untreated. To avoid problems before they damage your pool or become too expensive, make sure you hire professionals to inspect your setup.
Ensure Your Equipment Is Working Properly
From an outside perspective, pools may seem relatively self-sufficient, but anyone who owns one knows that there is a variety of equipment that goes into keeping them balanced and beautiful. Unless you're a professional, it can be difficult to quickly identify and repair issues in your pool's equipment. Clogged filters, broken heating systems, and cracked water pumps can only lead to more problems when left unresolved. Luckily, inspections are designed to find any problems, no matter how small, so that you can repair them quickly and help your pool continue operating properly.
Increase Your Pool's Lifespan
If you don't take care of your pool, it simply won't last. This is because maintaining a pool requires a meticulous degree of care. To help increase your pool's lifespan, you should have inspections and maintenance performed frequently. By regularly having the internal aspects of your pool checked by a professional, you have a much stronger chance of keeping all components functioning correctly. With insights from professionals in addition to effective maintenance services, you will be able to enjoy your pool for a long time to come.
West Hollywood Pool Inspection FAQs
Q:  How Often Should You Have Your Pool Inspected?
A: Generally, pool professionals recommend that you have your pool inspected once a year. Most people choose to do it when they're opening up the pool for the season, making sure everything is set to go for the coming year. However, if you just recently installed a pool or moved into a new home where you are trying to restore an existing pool, it is beneficial to have inspections done more frequently at first. That helps to ensure the pool is safe before anyone tries to use it — and it can help catch any problems that may arise before they become larger issues.
Q: What Is the Life Expectancy of a Pool in California?
A: There is a wide array of factors that may affect the lifespan of a pool here in California. One of the biggest details to consider is the type of material the pool is made of. For example, pools made of fiberglass may be more durable than plaster or concrete ones. Generally, you can expect an inground pool to last anywhere from 20 to 60 years in West Hollywood. If you properly maintain your pool and have it inspected annually, you have a higher chance of increasing its longevity.
Q: How Often Should You Test the pH Levels of Your Pool?
A: It's important that you check your pool's pH frequently. If you have a chlorine pool, you're going to want to check its levels multiple times a week. This is to ensure everything is balanced and that it's safe to swim in. For saltwater pools, it's still important you check your pH levels, but you may be able to get away with doing it just once a week. Regardless of if it's saltwater or chlorine, however, you need to check your pH every week at a minimum.
Q: What Causes Pool Water to Be Cloudy?
A: The water inside of pools is strategically balanced to help them stay clean and combat bacteria growth. If you notice that your pool water has become cloudy, this may be a sign that your chemicals are unbalanced and something is wrong. Cloudy water is commonly caused by calcium or chlorine levels that are too high, clogged or broken filters, unbalanced pH levels, or even when algae are beginning to grow. It's crucial that you identify the source of the cloudiness and balance your water before the pool is used.
Schedule Your West Hollywood Pool Inspection Today
When it comes to caring for your pool, our team at Aqua Masters is committed to you. We know just how nice it is to have a little piece of serenity at home, which is why we work to keep our clients' pools in tip-top shape. Don't wait to have your pool assessed by a professional. Schedule your inspection with us today. Contact our dedicated team at Aqua Masters for superb pool care in West Hollywood.