West Hollywood Pool Line Repair Contractor
Having a pool in West Hollywood, CA can be a great way to spend time with friends and family. From backyard BBQs to swimming by starlight, pools offer endless amounts of entertainment. However, owning a pool comes with a great deal of upkeep. Without proper pool maintenance, you could find that a leak has formed that not only wastes water but could come with significant financial impacts. Unfortunately, many pool owners don't realize that they have a leak until it is too late and visible damage presents itself. With the right pool company, you can not only keep your system working properly, but you can also ensure that issues are detected early to prevent further physical and financial damage.
At Aqua Masters Inc., our team understands how important your pool is to you and your family, and protecting your investment is our top priority. Small leaks can become big problems. Detecting any lead is a difficult task, but our professionals are trained to not only locate the problem but repair it so you and your family can continue to enjoy your backyard oasis.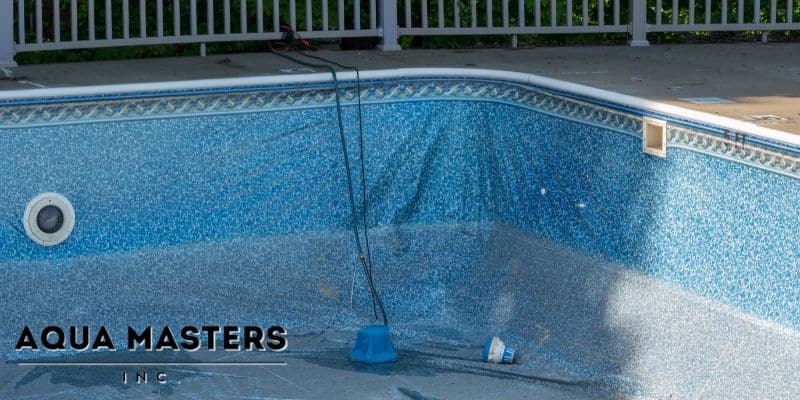 Signs That You Have a Leak
While detecting a leak is difficult, we have a few suggestions that may help you determine if it's time to call the professionals. Call Aqua Masters Inc. if you notice any of the following:
Your water bill suddenly increases.
Nonliving hardscapes around your pool suddenly show unexpected signs of moisture.
There are cracks in the surface of your pool.
There is a need to add additional water to your pool daily.
Your pool pump has lost its prime.
Your pool liner is showing signs of aging.
Our team can diagnose each of these problems and offer feasible and affordable solutions. There are plenty of do-it-yourself repair options that could save you money, but usually, that's just short-term savings. An improperly repaired pool will likely need to be repaired again – or worse. If you think the leak is fixed but improper repair is causing more damage, then fixing it will be much more expensive in the end. Calling a professional from the get-go can not only save you time and frustration, but it will also save you cash, too.
Common Areas of Pool Leaks
Leaks can be hard to pinpoint since water is everywhere when you have a pool system. However, there are a few common areas where leaks can show up. Some of these include: 
Plumbing: The cause of plumbing leaks could be the result of a number of factors, including the type of pipe, the age of the pipe, the quality of the installation, the configuration of the pipe system, and even the environmental elements that impact the pipes.
Skimmers: The skimmer in your pool that is designed to catch the debris in the water can also be the culprit for a leaky pool. Cracks can often form in the skimmer area, causing leaks to appear.
Returns: Pipe age, material, tree roots, and ground movement can all cause leaks to form in your pool's return system.
Pool Light: Lights in pools allow for nighttime entertainment. However, leaks can also form around the light in the conduit, the plaster around the light, or the gunite used to secure it.
Pool Surface: The surface of the pool itself is often for cosmetic purposes. However, cracks in the cement behind the lining, combined with pinhole leaks in the lining itself, can create leaks.
Pool Deck: Decks are often the first place that signs of a leak can be found. Cracks or damage in the pool deck can be a sign of other significant damage. Water seepage and staining could be indicators of these leaks.
Pool Suction Line: Many of the other areas of the pool system that show signs of leaks may be an indication that a pool suction line leak repair is necessary. Symptoms that the leak is in the pool suction line can be seen in the pool pump lid. There may be indications that there is air under the lid and the pump is not getting enough water.
While you want to enjoy your pool as long as possible, ignoring a leak is never a good idea. Not only will it waste water, but it could mean debris will find its way into your pool system. Improper pH maintenance can also be an issue, adding up to additional costs. You could find mold or mildew growing in your pool, while the landscape around your pool begins to die from the chlorinated water leaking into the environment.
FAQs
Q: How Much Does It Cost to Replace a Pool Skimmer Line?
A: There's no one right answer for how much it costs to replace your pool skimmer line. It will vary depending on the leak and how severe it is – and that cost can range greatly. In fact, a pool skimmer repair or replacement can cost as little as $50 to as much as $1,500. The type of skimmer and pool you have will determine the cost of the parts necessary to complete the repair properly.
Q: How Do I Find a Leak in My Inground Pool Line?
A: A simple test can help you find any leaks in your inground pool line. By plugging the return lines, or the skimmer, you can pinpoint the location of your pool's leak. However, not every leak can be detected this simply. You may need to purchase an at-home test kit to help you locate where you are losing water.
Q: Can a Pool Liner Be Repaired Underwater?
A: Though surprising to some, you can replace a pool liner underwater in some situations. If your liner is made of vinyl, you can use HH-66 vinyl cement. This is an adhesive designed to be applied underwater and can set in minutes. It is a powerful adhesive that is built to withstand a variety of conditions to prevent further leaks from occurring.
Q: How Do You Fix a Leaking Pool Liner?
A: To fix a leaking pool liner, your first call should be to a professional. Though there are many products that line the shelves offering quick fixes, they are rarely quick and sometimes not even fixes. Calling on professionals who are skilled and experienced at pool repairs and can ensure any leaking pool liner is repaired correctly.
West Hollywood Pool Leak Repair
You don't have to stop swimming due to a pool leak, but you should call in the professionals. With the right team on your side, you can keep your pool running in top shape to avoid costly repairs later. At Aqua Masters Inc., our team can help at every stage – from pool maintenance to repair or replacement. Our team has years of experience, and a proven record in helping pool owners keep their equipment working the way it should. Don't let leaks cost you more time and money. Contact us today for a consultation.