Hollywood Pool Light Repair Service
Part of enjoying your pool is having the option to swim whenever the desire strikes. Swimming at night under the West Hollywood sky is a sensational experience that should always be available if you have a pool. Even swimming in a darkened room in an indoor pool can be a calming experience.
An important safety consideration that must be made when swimming in the dark is properly functioning pool lighting. Because electricity and water are dangerous when paired, improperly functioning pool lights can cause safety issues even while swimming during the day. It is crucial that you work with an experienced pool maintenance company to ensure that your lights are functioning safely and correctly. As soon as you begin to experience issues, Aqua Masters, Inc. can inspect your lighting and repair any problems. Safety should never be compromised in these circumstances.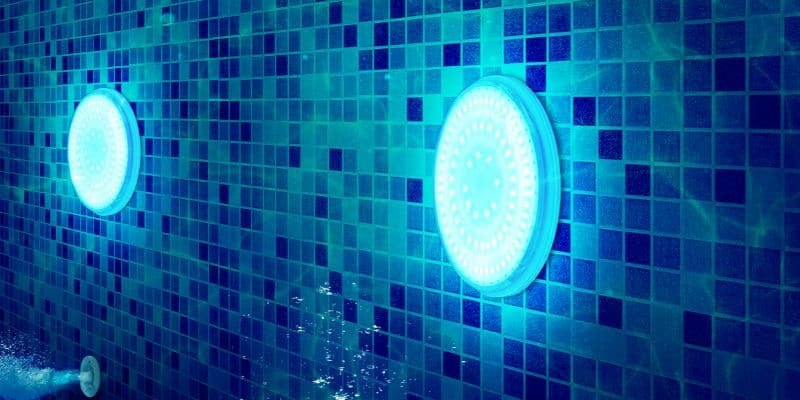 Pool Lighting Diagnosis and Repair
Water and electricity together are a volatile mixture that can cause severe damage when an inexperienced person attempts repairs to their pool lighting. Although a bulb replacement may seem like a simple repair, the circumstances actually make it a risky electrical project. Working with electricity that is exposed to water can cause serious injury to the person attempting the repair, but any mistakes in putting the system back together can cause significant damage to the pool.
As swimming pool professionals, Aqua Masters, Inc. has the knowledge and experience to diagnose and repair any problems with the lighting in your pool. Our skilled team can handle even the most difficult troubleshooting processes and then provide competent repairs to ensure that your pool lighting is correctly fixed.
Common Pool Light Issues
Even the highest-quality lighting systems will eventually need to be repaired due to the corrosive nature of a pool environment. Cleaning solutions, and many of the other chemicals used in a pool, can cause damage to multiple components of pool lighting systems. Common issues seen in the area that need to be repaired include:
Pool light lens gasket replacement
Light bulb replacement
GFI issues
Water leaking into the light
Faulty junction box
Complete light fixture failure
Regardless of the lighting issues in your West Hollywood pool, Aqua Masters, Inc. can find the root cause and repair any problems that arise. We are also familiar with the warranty on each product we carry, ensuring that we can recommend a maintenance schedule that helps our clients meet the manufacturer's requirements and avoid an accidental warranty invalidation.
Replace Older Lights
In some instances, such as with lighting that was installed many years ago, it is not safe or practical to repair the existing lights. When this occurs, it is recommended that an updated lighting system be installed. Any systems that were installed before 1968 may not be up to the standards and regulations implemented by the National Electric Code (NEC). Bringing these systems up to code is a requirement when any work is done on these older systems. Updating your pool lights can lower their energy requirements while also lighting your pool more efficiently. This decreased energy requirement can help offset the cost of a new lighting system. New systems also have many features that make them appealing to pool owners, including colored lights, nicheless lighting, and smart controls. Aqua Masters, Inc. can inspect your system and compose a thorough report to help you make the decision between pool light repair and replacement.
FAQs
Q: Do You Have to Drain a Pool to Replace a Pool Light?
A: Draining a pool is a huge undertaking that is often avoided whenever possible. In many instances, it is thankfully not necessary to drain a pool before replacing a burned-out light, even if the light is below the water's surface. There are, however, important safety considerations that must be made. For example, the electricity must be turned off to the pool lights before you begin the process, or you risk being electrocuted.
Q: How Many Years Will a Pool Light Last?
A: The expected lifetime of a pool light bulb depends on the type: incandescent bulbs generally last around 1,000 hours, halogen lights generally last around 1,500 hours, and LED lights generally last around 20,000 hours. Although you can expect the LED lightbulbs to last up to 20 years, the other components and fixtures in the light housing may need to be repaired or replaced more frequently due to the chemicals used in the pool.
Q: Can I Repair My Own Pool Lights?
A: Repairing pool lights is a much more complicated process than working with electricity in other environments. Although electricity can be dangerous for anyone without experience when attempting a DIY project, it is especially dangerous when the electricity is in the water. There are many tutorials online that show the processes for some lighting repairs, but the potential danger involved makes them generally inadvisable to attempt as a DIY project for anyone without pool electricity experience.
Q: Why Are the Lights in My Pool Dim or Faulty?
A: There are many different potential reasons why your pool lighting is not up to standard. Identifying the exact reason for your dim or faulty lights will generally require a professional inspection. However, there are a few common reasons for these issues. Possible reasons include:
Loose fixtures
Burn-out bulbs
Leaky housing
An overcrowded circuit
Irregular electricity supply
A GFCI shock hazard
Leave Pool Light Repairs to the Professionals
Aqua Masters, Inc. employs the most skilled pool light repair technicians and installs only quality products. Our staff members can skillfully repair and install your pool lighting after a thorough discussion to ensure that you understand all your options. Aqua Masters, Inc. can work diligently to repair your existing lighting or create a new scheme if a repair is not possible. We want each client to enjoy their pools happily and safely, so we are dedicated to performing quality work that cannot be questioned.
If you have any questions about the safety or quality of the lighting in your pool, reach out to Aqua Masters, Inc. for a quote on the repair and your options for a potential lighting update. Even a seemingly small issue with your lighting can have disastrous consequences, so do not hesitate to make the call.